Are you planning a career in Digital Marketing and wondering what skills are required for digital marketing to make it big and from where can you acquire them?
Well, all you need is a deep understanding and knowledge of digital marketing skills for a successful career in this sector.
However, to gain and imbibe the very essence of digital marketing skills in a proper way, one must make a wise decision to choose the best digital marketing institution having a good reputation just like the Jaipur School of Digital Marketing (JSDM) which is a famous for offering exceptional learning experience.
As you know, digital marketing has gained paramount importance and momentum over the past couple of years with most organizations adopting and incorporating its vital essence for facilitating higher reach, profitability, and employment generation.
Personalized emails can result in 6 times more customer interactions as compared with non-personalized images.

An astonishing upsurge in Digital Marketing skills has been observed across the globe as a prerequisite for ever-increasing Digital Marketing jobs.

B2B companies that create blogs are able to generate 67% of more leads as compared to those businesses that do not generate blogs.
Digital marketing skills are considered extremely important and valuable, whether you are already employed or planning for your dream job in this dynamic industry.
Without these skills, there will be no growth forward, hence, acquiring these vital digital marketing skills becomes quite indispensable for anybody aspiring to make a bright future in this sector.
Though a career in digital marketing is lucrative, it is a pretty large industry, making it difficult for newcomers to plan their paths and find their niche. So, before you enter this field, it is necessary to understand what digital marketing skills you need to create your bright future. 
So, let's charge up and try to learn in detail about these essential and must-have Digital marketing skills for everyone aspiring for a career in the digital marketing sector one by one for a better understanding.
What are Digital Marketing Skills?
Digital Marketing skills are a range of prerequisite technical skills and abilities required in a digital marketing professional for carrying out digital marketing strategies effectively and efficiently that involve activities like product promotion, brand awareness, lead generation, customer engagement, and maximizing profit revenues for a digital marketing organization.
Through digital marketing skills, you can create value for your employer as well as for your company in the following way:
If you want to work in an organization after gaining digital marketing skills then you can avail below benefits:

You will be able to increase the average sales of your company.
You will be able to increase the brand presence of your company.
You can help your employer by analyzing the latest social media trends and key factors.

If you want to open your own business then you can gain the following benefits after learning digital marketing skills:

As an entrepreneur, you will be able to learn the correct strategies to target the right audiences rather than targeting random audiences.
You will be able to build higher brand awareness among your targeted audiences.
As an entrepreneur, you will be able to learn about lead generation, lead capturing and lead nurturing.
The process commences with identifying and analyzing the target audience and identifying their impression and perception about the products or services and ends with lead generation, product offering, increasing sales revenues, customer feedback, measuring results, and improvising the strategies for better performance.
Why Do you need Digital Marketing Skills?
Imbibing Digital Marketing skills are important as consumers these days have become very smart and have easy access to all kinds of information including online products and services. So, it has become a challenging task to persuade and satisfy online customers. And thus, acquiring digital marketing skills has become pretty imperative to attract and satisfy potential customers through innovative digital skills to stay competitive in this cut-throat competition.
Top 10 Digital Marketing Skills
Social Media Skills

Search Engine Optimization (SEO)

Content Marketing

Data Analytics

Search Engine Marketing (SEM)

Pay-Per-Click (PPC)

Video Marketing

Email Marketing

Mobile Marketing

Ecommerce management
Social Media Skills
Social Media Skills are considered the most demanding Digital Marketing Skills these days. Understanding the nuances and utilizing them properly on social media is a critical and much-appreciated skill that every digital marketing professional should possess.
Social media marketing is more than just sending a tweet or a Facebook status update. In fact, it is more about understanding the dynamic interplay between businesses, influencers, and customers.

It plays a significant role in delivering effective customer service since many consumers use social media to ask inquiries or post comments.

According to research, 98% of sales representative who incorporates more than 5000 genuine connections find it easier to accomplish their sales quota.
Businesses must reach out to customers in ways that will bring visitors to their website and compel them to buy their product or services for achieving better sales figures and increasing the conversion rate for higher profitability.
Students and professionals interested in social media skills gaining must appreciate the power of social media and grasp the nuances of each platform, from YouTube, Facebook, Instagram to TikTok to enhance their digital marketing skills for a luminous future in this field.
Search Engine Optimization(SEO)
Search Engine Optimization (SEO) is key to all levels of successful digital marketing campaigns. It is a highly significant and demanding skill and thus is considered one of the most important digital marketing skills to be acquired by digital marketing professionals.
An SEO is crucial for running a successful digital marketing campaign and a career in SEO calls for a better understanding of how it actually works. It involves a solid knowledge of its fundamentals and best practices to be followed for optimization of the content and the websites for achieving a better customer base, increasing organic traffic, conversion rates, building trust and loyalty, and improving brand awareness.
Learning the fundamentals of SEO is highly crucial from the business perspective and hence, it is among the most sought-after digital marketing skills for students as well as professionals.
Content Marketing
Content is the core of digital marketing. It is used for increasing brand awareness by engaging audiences for a positive buying decision. Content marketing bridges the gap between the audience and the digital marketing company. It involves having digital marketing skills for exhaustive research, development, and creation of genuine, relevant, and informative content with the objective of enticing and engaging the audience for converting an audience into a potential customer.
As a content marketer, one must learn to draft various kinds of content ranging from articles, blog posts, infographics, podcasts, and many more.

They should be able to grasp the significance of developing content that is related to keyword research and optimize content based on it for increasing brand awareness and promotion through audience engagement for increasing the sales and profitability of an organization.

After all, the content is the main factor for driving traffic to any particular website, and without it, the buyers will not get the necessary information regarding the products or services.
Hence, content writing proves to be one of the main and most important digital marketing skills to be acquired by freshers and professionals.
Data Analytics
Data can give a plethora of information to your students that, when used effectively, may result in powerful marketing efforts that increase conversions, sales, and income. It involves tracking and analyzing the actions of a website's visitor through the use of google analytics.
According to the Global State of Enterprise Analytics, 56% of the respondents reported that data analytics leads to faster decision-making of operations.
51% of respondents indicated that data analytics leads to better decision-making in operations.
44% of respondents showcased improved customer experience.
43% of respondents indicated that data analytics provides better competitive advantages.
Data analytics simply allows students and professionals to acquire these digital marketing skills to make well-informed, data-driven decisions that lead to greater business opportunities. the learner must grab the fundamentals and should be aware of terms like bounce rate, session time, pogo-sticking, page time, and so on. Here, numbers determine whether or not a campaign was effective and by how much.
The goal here is to understand what data to collect and measure in order to better the following campaign. Companies do not want to squander money on marketing based on trends or gut instincts. It is all about maximizing the efficacy of each campaign and maximizing the return on investment.
Search Engine Marketing (SEM)
Search Engine Marketing (SEM) has become one of the most important digital marketing skills in the past couple of years. To put things into perspective, 81 percent of internet users look for a product or service to buy online, with Google accounting for 70 percent of that traffic.
Search Engine Marketing (SEM) involves the use of advertisements to increase the visibility of a website on search engine results.
Students with SEM experience can use paid advertising to boost the exposure of a company's website on a search engine. As a consequence, the company will receive vital site traffic from search engine results pages.
Students will be able to obtain valuable organic search traffic results by employing SEM. That is why marketers, content managers, and webmasters spend so much time optimizing websites, especially for mobile and ad campaigns, in order to get the greatest conversion rates possible.
Most businesses provide products or services and seek to outperform their competitors in order to be easily found online. This means that job searchers with a good grasp of search marketing will be extremely beneficial to firms in ensuring their visibility and search ability. Search Engine Marketing is a great skill to hone in present time, and you can also learn to run ad campaigns and manage social media accounts from a professional digital marketing course in Bikaner and start a career in the stream today.
Pay-Per-Click(PPC)
PPC is a popular strategy for companies to swiftly increase visitors. Companies with large spending may have their search results appear on Google's front page, resulting in tremendous traffic. Google's AdWords program is a prominent PPC advertising technique, and a PPC for eCommerce tracker is an excellent method to monitor spending.
Understanding impressions, reach, and cost-per-click is critical for the technologically savvy job seeker.
Video Marketing
Video has progressed from a form of entertainment to a key source of social media content. YouTube has evolved into a strong and influential platform, while networks such as TikTok and Instagram have turned videos on its head to generate rich influencers.
With the average age of smartphone users increasing, social media applications such as WhatsApp, Weibo, and WeChat are quickly becoming the de-facto tools for rapid messaging communication. Indeed, WhatsApp has over 2 billion users globally, with the majority of downloads coming from the United States.
Video marketing is still sweeping the internet, and it's not going away anytime soon. Customers adore videos, especially on social media, and 8 out of 10 individuals have purchased after seeing a brand's video. For marketers, 93 percent believe video is a key aspect of their strategy, and 87 percent think it provides a favorable Return on Investment (ROI)
Content in the form of video is simpler to digest than content in other formats, such as a blog article. It's also more fun and targets Millennials. Marketers try to tap into an expanding market of engaged customers by combining the emotional power of social media videos with the reach and scope of digital advertising. Thus, we can say that this is among the most popular digital skills required for digital marketing jobs.
Email Marketing
Email is one of the oldest means of direct marketing and continues to be effective in terms of client acquisition and retention. From startups to big enterprises, a solid email marketing strategy is essential for launching effective campaigns.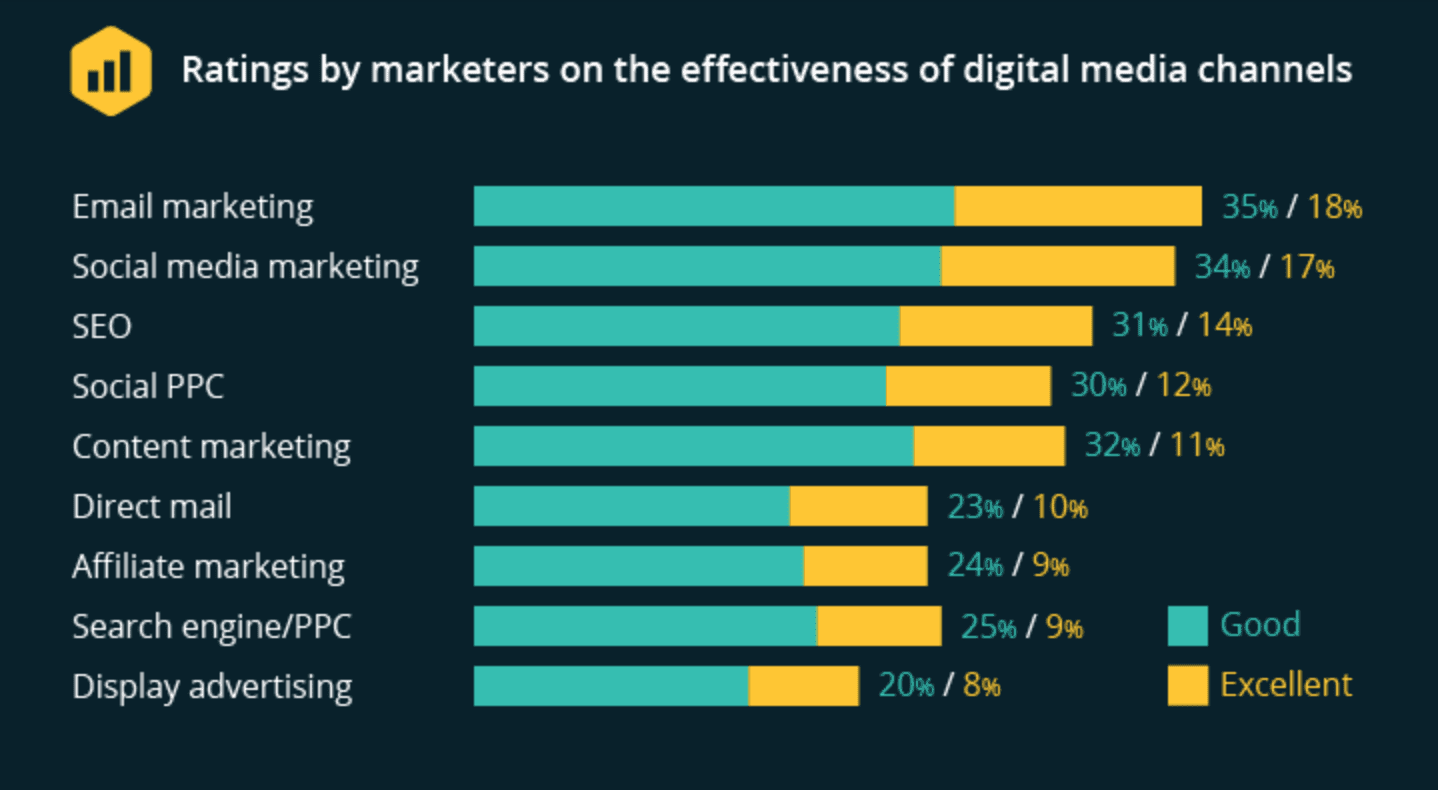 The best digital marketing course in Jaipur teaches you how to segment your subscriber list and develop a database depending on demographics, target groups, mode of acquisitions, and many other important aspects of this particular digital marketing skill. They also provide you with email marketing tools and software to assist you in creating visually appealing emails. Furthermore, you also learn and understand how to automate emails and extract data from email campaign statistics.
Mobile Marketing
With 97 percent of the world's population using mobile phones and smartphones accounting for 96 percent of all active connections. Because smartphone traffic currently outnumbers desktop traffic (64 percent), Google employs mobile-first indexing when scanning pages and ranking content.
Mobile marketing is the process of advertising your business using mobile devices. This session will teach you how to advertise your app, improve app installations, examine app stats, and optimize your app for the app store (ASO). In addition, you will learn how to enhance app engagement with in-app advertising, in-app messaging, and push notifications.
Another component of mobile marketing training focuses on mobile site analytics and mobile display advertising, which are topics that few schools address. To understand the significance of this development, consider Google, which has developed a mobile-friendly web app meant to analyze the usability and performance of mobile websites. Using mobile-friendly content helps boost your search visibility among consumers who do not have access to desktop computers.
Ecommerce Management
E-Commerce Management is the act of managing an e-commerce store and its activities to create a great client purchasing experience. In this session, you will learn about e-commerce, its several varieties, and how to build an e-commerce website from the ground up.
You will master the fundamentals of an e-commerce company, such as e-commerce marketing, product keyword research, inventory management, supply chain management, packing and shipping, selling on online platforms, uploading items to an online marketplace, and business procedures.
Ending Note
Digital marketing is a fast-paced and demanding profession. Understanding the fundamentals and acquiring the necessary digital marketing skills to help you get a boost your professional life. The number of digital marketing jobs expected to be produced in the area by 2022 is expected to be at an all-time high, indicating that digital marketing is here to stay for a quite long time.
We hope that through this blog on top digital marketing skills, you would have got an idea about what skills are required for digital marketing and throw much-needed light on each of those top digital marketing skills for a better understanding for carving out your future professional life. A career in digital marketing is highly lucrative and demanding one calling for applied digital skills as a prerequisite for a digital marketing job. We hope that our list of top digital marketing skills would serve as a torchbearer for your career and will help you to take the first step toward brighter future prospects.
To gain more knowledge to sharpen up your Digital Marketing Skills you can enroll in a professional course from Jaipur School of Digital Marketing (JSDM) that has a profound reputation for offering the Best Digital Marketing Course in Jaipur that would help you to imbibe and enrich the essence of this trending field to become an outstanding Digital marketer.
Frequently Asked Questions  (FAQs')
Is Digital Marketing a good career?
Yes, definitely, Digital Marketing is a very good career option without a doubt. It has many interesting and varied field options to choose from. You need to hone up your digital marketing skills before you opt for making a career in this sector.
Is Digital marketing a well-paying field?
Digital marketing is a highly lucrative and well-paying job. This is a highly dynamic industry that demands consistent changes and the up gradation of digital marketing strategies according to recent trends and technologies. Thus, digital marketers have to keep up with the upcoming challenges to stay competitive. Many digital marketing laterals like SEO, Social Media Marketing, Content Marketing are among high-paying jobs in digital marketing.
The highest salary at an executive-level position in digital marketing is around  INR 5,00,000 whereas at the managerial level it is somewhere around 10,00,000. Though these figures depend on many factors like your own digital marketing skills, years of experience, and size of the organization.
What are the top-selling digital marketing skills?
The top-selling  digital marketing skills are as follows:
Search Engine Optimization (SEO)

Social Media Marketing (SMO)

Search Engine Marketing (SEM)

Content Marketing

Pay-Per-Click (PPC)

Email marketing

Mobile Marketing

Video Marketing
What are the important skills required for a Digital Marketing job to become successful?
The important skills required for a digital marketing  job to become successful includes taits like:
Creativity

Adaptability

Leadership

Analytical skills

Persistence

Strategy planning

Communication skills